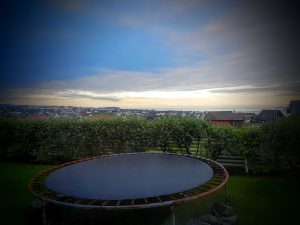 Well, the first week has gone by. Overall, I'm ok with my performance since I wanted to start slow. I had a lot of work hours this week and a lot of nesty type projects to take care of, like putting up blinds, putting together a table, errands and whatnot. Your apartment is never as clean as when you're writing your dissertation, as they say.
Now that I'm attempting to carve out extra time in my schedule, the value of proper time management and communication has never been more apparent to me. We're a special needs family, including a 5-month old, so everyone is just sorta milling about themselves unless we plan. Thusly, I spent a morning checking out various organizing methods. I tested the family organizing apps Famjama and Cozi (what's with these names?). Up until now we've been using a paper calendar, and although the family organizing apps were interesting, we ended up using Google Calendar which was the only tool which successfully allowed me to automate my work schedule which spans three weeks before it starts over.
So, how was my week? I'm glad you asked.
The first thing I did was to roughly define my projects:
I'm writing a song in our bedroom studio.

Second, I'll create a Cubasis song. I'm often out and about and I recently purchased Cubasis for my Ipad (which my awesome girlfriend gave to me because she never used it, love you, hon) so I'll put it to the test by making a whole song exclusively on Ipad. Cubasis is Steinberg Cubase's baby sister and allows me to transfer any on-the-road projects into my studio, so we likes that quite a bit, innit?

A (short) short story.
So, these were my intentions for the week gone by:
(Creative Work) 2 hours of project work

– Done! Actually quite a bit more than two hours. I wrote a tiny short story (690 words) which turned out decent. I worked on the Cubasis tune, but didn't really get anywhere and haven't had time to begin the studio song. As stated in my last post, I'm going to move away from amount of hours and state more defined goals. I prefer tangible goals rather than aiming for x amount of minutes, which means nothing in itself.

(Wellbeing) Only eat junk and sugar on Saturdays

(exception: when friends and family visit our vice versa) . Done! I've eaten quite a bit healthier this week. There were occasions when we had family over, but minimal sugar was involved on my part.
So I got 100% on my week. I realize it wasn't much of a todo list, but it's still better than I've managed lately due to depression.
My list for this week (week #2 – turning it up a notch):
Create – Make a good effort on a daily basis, using what time I have (habit)
Create – Cubasis Song – Three pieces with at least two instruments in each.
Wellbeing – Run once this week. (habit – will grow)
Wellbeing – Become a reader again – Read some fiction every day (habit)
Some elaboration:
I want to work on a creative project every day. Of course, there will be days with 10-hour work shifts and sick kids at home where 5 minutes of project work will be acceptable, but there will also be days when I'll have a lot of free time allowing me to do more substantial work, while also making time for family, other habits and moderate relaxation. I want to be able to say: I did the best I could today with the time given to me.

Self-explanatory.

I want to feel better, sleep better and have more energy in my life. Bonus: Running and hiking in Faroese wilderness. Going to aim for 3 times a week of running, hiking or dancing or similar.

Previously I ploughed through several books per week. Now I don't even manage a book per month. I seem to always choose what shuts off my mind the most, which happens to be video games and netflix. So my intention is to become a reader again. It's my form of meditation and makes me focus like nothing else.
All righty, I'm off. Hopefully I'll manage as well this week.